Custom Storage Solutions for every need
Welcome to Storage Solutions! Our company has been providing top-of-the-line products in the Pittsburg, TX for over two decades
Customize Your Buildings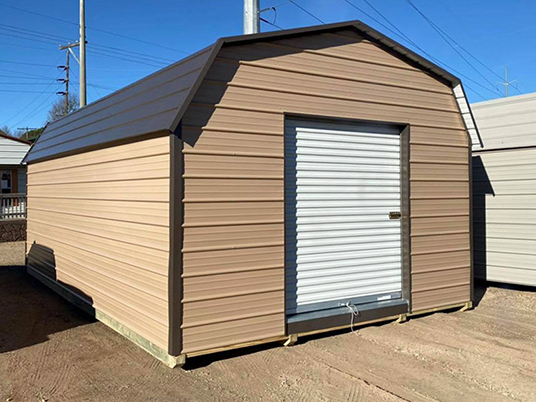 Portable Storage Buildings Built to Last
As the top Texas metal builder, we offer many different sized and priced portable buildings. We understand that every customer has different needs and wants, which is why we have so many options. Storage Solutions has sheds, cabins, offices, barns, garages, RV covers, commercial grade buildings, and more. All of our products are made with the best materials in the industry. You can expect the structure to last you for many years to come.
Our delivery times vary depending on where you are located, but typically runs from 5-10 business days. If you are ordering a custom building, it is normal for it to take 10-14 days. Want to know more about delivery and the cost?
Call Us Now
What Our Clients Are Saying
Everyone from the sales people to the set-up crew were outstanding. great prices and removed an old shed that a tree had crushed. great people, trustworthy, and I highly recommend them over any other dealers in area. Very trustworthy. Customer for life!
Holley Tasa
Great experience! They custom built my building and had great customer service every step of the process! Definitely recommend them and will use them in the future!
Penny Bynum
Great people. Sales rep was very knowledgeable and super friendly! Low prices and they had my building delivered and set up the same day!
John Walder
Very good people, down to earth and very understanding ! They will work with you any way they can!! Very good and low prices on buildings and car ports !! Go on down and check them out !! Storage Solutions in Pittsburgh Tx!!
Autumn Daniel
Very professional & they were more than willing to work with us on our budget! will be going back to them for any buildings I need done in the future.
Jennifer Travis
Have purchased 3 buildings from them….every experience has been positive… would recommend this company without reservation….
Lee Day
Excellent craftsmanship and end product built as needed. Very knowledgeable and friendly people to work with. Highly recommend.
Pinnacle Venue
I work in the construction industry and these are some very well built buildings! Great financing options as well!
Mitchell Jean
Very happy with my building and the service. Great price and great people!
Maranda Webb-Giddens
Reliable service, great prices, consumer friendly!!
Highly recommend this company!!!
Mj Mallon
Affordable, and efficient. Thank you for making my purchase so simple!
Shanna Hooper-Waller
Great prices and availability of units they sell along with great people to deal with and delivery and set up
Sidney Chandler
Great help, reasonable prices.
Micheal Mutchler
Highly recommend this place!! They are awesome!!!!
Casey Foster
Unbelievably great pricing
Jessica Logan